Specialist Butchery Books
Pork. Preparing, Curing & Cooking All That's Possible From A Pig.
This celebration of the world'¹s most popular meat showcases its fantastic versatility.
Written by a well-loved TV chef with first-hand experience of raising pigs ­ he keeps more than 50 in woodland near his home ­ and an award-winning butcher, it explores the cooking and preserving of pork around the globe
Chapters cover Shoulder & Ribs, Belly, Loin & Fillet, Ham & Gammon, Bacon, Sausages and Oddbits, and include the techniques needed to make everything from dry-cured ham, chorizo and salami, to bratwurst, smoked pig cheek pancetta and hot dogs. The delicious recipes range from the traditional to the unusual, by way of classic and forgotten cuts and offal, and include Pot-roasted Pork Belly with Apples, Celery & Cider, Simple Pork & Raison Terrine, Easy Ham & Potato Hash, Velveted Pork Fillet with Peppers & Garlic and Twice-Cooked Trotters with Mango Chutney Glaze.
Illustrated with gorgeous photography, it's a delight for pork lovers everywhere.
Purchase book online >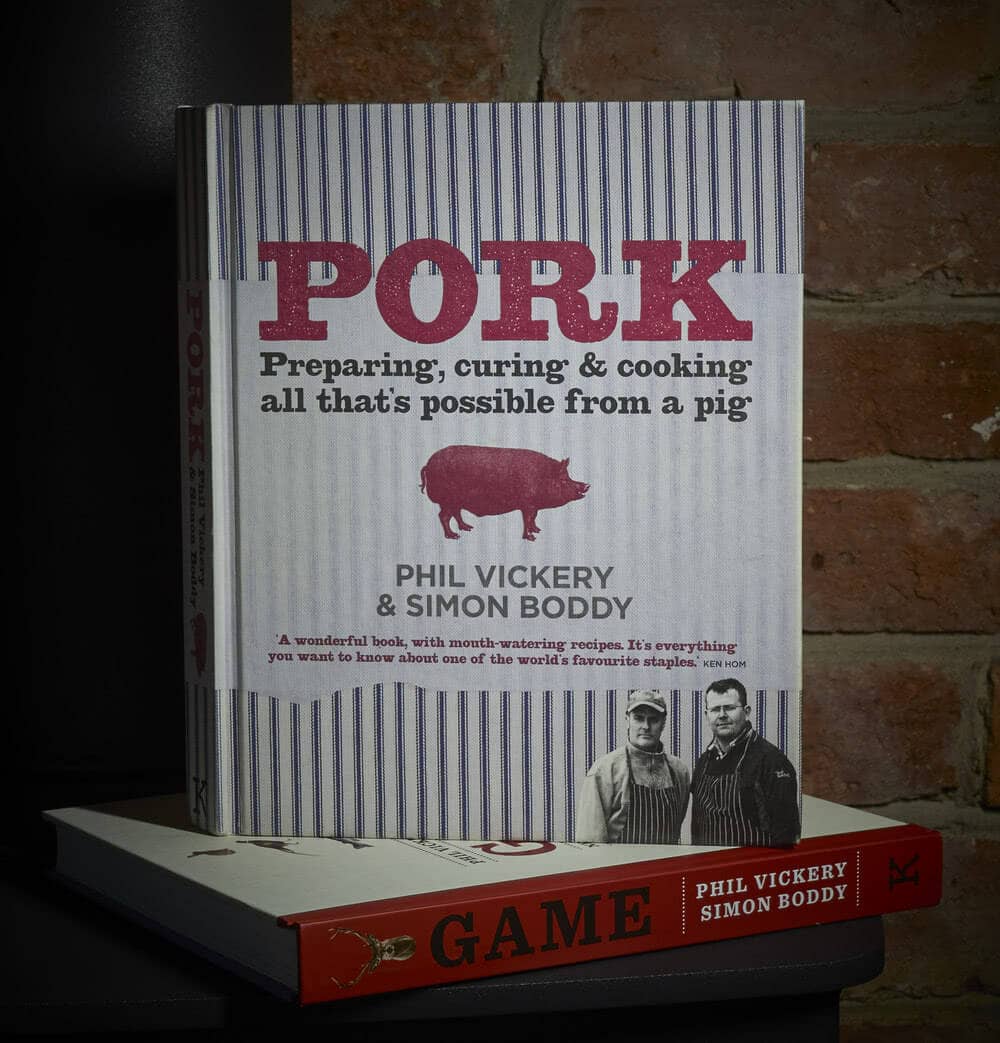 Game. New Ways To Cook, Prepare And Cure.
The tempting recipes and expert advice in this book put game firmly back on the menu. Popular TV chef Phil Vickery and award-winning butcher Simon Boddy demystify the subject by showing you how to prepare and cook a whole range of wildfowl, fish, feathered and furred game at home.
Phil's inventive and internationally influenced dishes cover everything from Pot Roast Coconut Stuffed Partridge and Spiced Pigeon with Green Lentils to Thai Quail Salad, Japanese Mirin Salmon and Pan-Fried Sea Trout with Warm Tomato Sauce Sauce, while Simon guides you through the skills and techniques needed to create everything from Hot Smoked Partridge and Spiced Hare and Chocolate Salami to Venison Bresaola. There are even recipes for more unusual game such as ostrich and squirrel.
Purchase book online >